General Meeting – January 2021 – Special Yearend Wrapup
The format this month will include a review of 2020 club activities and projects, the Bruene Award presentation, introductions to 2021 club leadership, and a short presentation from our very own Andrew Koenig, KE5GDB (topic TBA). We will also be drawing for some terrific prizes!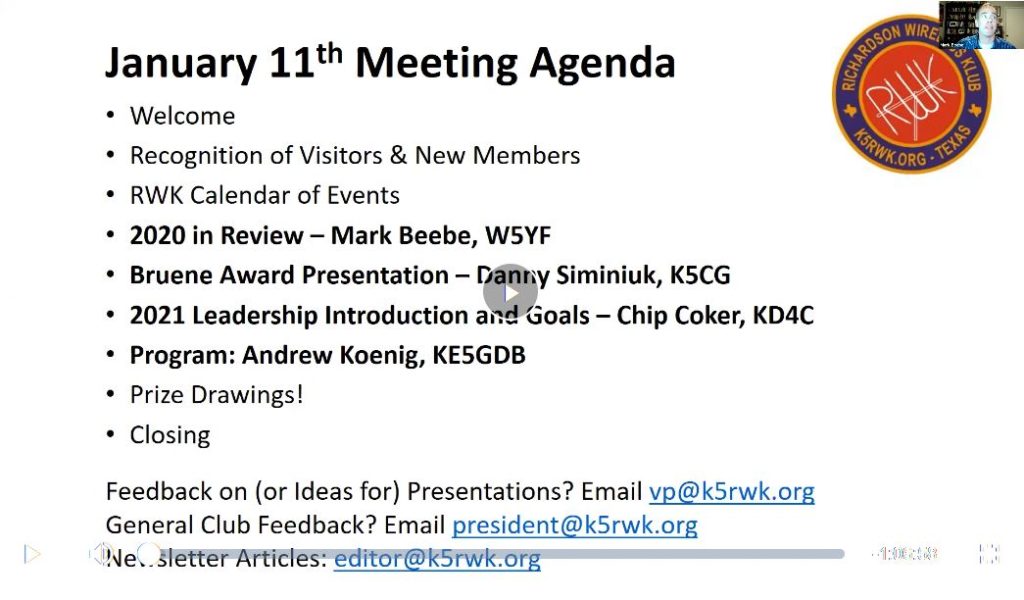 View the recording of the January General Meeting
Since RWK monthly general meetings are open to all, please feel free to invite anyone you think might be interested in experiencing one of our meetings.
Congrats to the following winners of tonight's prizes:
Grand Prize – ICOM ID-51A H/T with D-STAR – Mike Starnes, AA5WX
Second Prize – Comet SBB5 Dual-Band Mobile Antenna – Andrew Koenig, KE5GDB
Third Prize – Plantronics Blackwire 325 Headset – Mike Vinocur, W2HLD and Ken Hansen, N2VIP
Fourth Prize – Custom Ham Desk Sign from Brady Pamplin, W5LH – Bill Reed, NX5R and Jay Crutti, K5JCJ
Fifth Prize – Local Honey Combo Packs from Bryan Zumbar, KG5HDE – Robert Umpleby, AA5AH and Bob Coelln, KG5JL
Shameless Club Member Promotion – Brady will custom print a Desk Sign for $10 for RWK Members in your choice of colors so contact Brady (brady_pamplin 'at' hotmail.com) if you want one of these unique and personalized signs.