Ken Hanson, N2VIP
Introduction
The purpose of this web page is to provide some guidance to anyone interested in getting a Technician Class Amateur Radio license. I'll review organized classes versus self-study, review on-line study resources, and explain how to find VE test locations and dates in your area when you are ready to take the test.
Self-study or Organized Classes
Organized Classes – Many people interested in getting a Technician Amateur Radio License opt for an organized class run by a local club – they can be quite effective, but for some individuals the time commitment can be a struggle – some classes meet once a week over the course of several weeks, others are "cram" sessions that run all day Saturday and most of Sunday, with license testing immediately after. Organized classes typically are designed around a specific study guide – there are several, each tailored to prepare you in their own, unique way for the FCC test.
To find a class in your area, there are a couple different methods you can use:
Local Clubs – To find a local club, the first step would be to "Google" the name of your city and the words "amateur radio" (no quotes). It's a longshot, but if you are lucky enough to have a club in your town, that should be your first stop. Once you are in contact with the local club ask about any upcoming classes in the area.
If you are unable to find a local club in your town or city, the next step would be to check the American Radio Relay League website http://www.arrl.org/find-a-club and search for clubs in your area. Some areas are better-served with local clubs than others, but chances are you can find a local club if you are willing to have a very liberal definition of "local".
Self-study – For various reasons many people opt to go the self-study route, buying a license manual or self-study guide and working their way through the material on their own time. Self-study can be a very effective way to prepare for the license exam, and there are many, many resources on-line (I'll highlight a few I like, but there are many more just a quick google search away).
Study Manuals – There are four different self-study license guides on the market, I'll briefly describe each, along with providing a link to purchase each over the internet.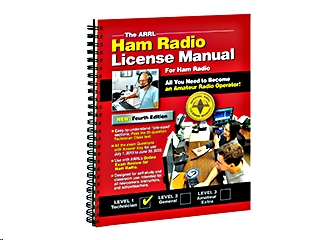 The ARRL Ham Radio License Manual – This is my personal favorite for self-study, as it presents the license material in a clear, straight-forward manner fully-explaining each topic covered for the exam. In addition to reading the book, David Casler KE0OG and a few other Hams have created numerous collections of YouTube videos that cover every topic in the ARRL license manual, broken down along chapter topics to provide reinforcement and clarification of covered material.
Book link Video Link (click on Online Video/Audio Courses)
Note: The ARRL Tech Prep Resource Library (http://www.arrl.org/tech-prep-resource-library ) has a wide range of useful resources including study guides, online practice exams, and the previously mentioned YouTube videos.
---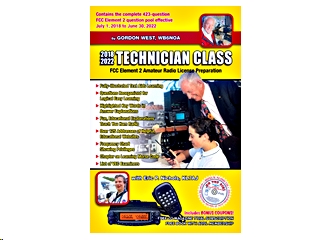 Gordon West Technician Class Ham Radio Study Manual – This book is very popular with club organized classes, and when coupled with an instructor (or instructors) that discusses the topics covered and answers student questions, this can be a very effective way to learn the material required to pass the examination. This book covers the material in a question-and-answer format, along with a few short chapters on topics related to the process of studying for, taking, and passing the exam. If you find yourself struggling with this book, but it is the book being used in a class you are taking, consider getting another book to fill in the missing details to help you learn the material – I suggest using the ARRL Ham Radio License Manual (above), but either of the following books may also be suitable. Also, the material in the ARRL Tech Prep Resource Library can be very helpful even if you don't have the ARRL manual. (See above)
---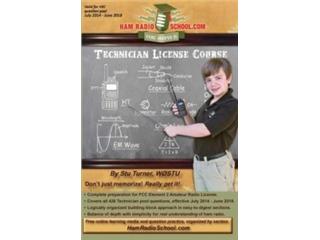 HamRadioSchool.com Technician Class License Course – This book is a nice alternative to the previous two books (ARRL and Gordon West) – it is a pleasant read (organized in chapters that include lots of diagrams and photos to help explain the material) but in my opinion the material is not quite as thorough as the ARRL license manual, but it can be perfect if you already have some exposure to the covered material. The publisher hosts a website that offers lots of great resources to help you master the material – even if you choose not to purchase the book, the online resources are available to all and well worth referring to as you prepare for the license examination.
Book Link and Learning Material (click Learning Material)
---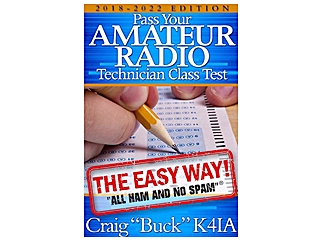 Pass Your Amateur Radio Technician Class Test – The Easy Way – This book is a combination of the Gordon West book's organization around each question, along with the ARRL license manual's in-depth explanations of the material discussed. In contrast to the Gordon West books, the "Easy Way" books only present the correct answer for each question, under the theory that it is counter-productive to spend time studying the three wrong answers for each question along with the correct one. When I studied to upgrade my Technician license to General, I studied the ARRL General License Manual over an extended period (truth be told I casually read and re-read the entire book a couple times over the course of a couple years), but to "lock in" the material I downloaded the question pool and removed the three wrong answers to each question, and over the course of the week before I took the exam I read the question pool – every question and the correct answer – three or four times before the exam. I felt confident I was ready for the exam, and passed not only the General exam but also the Extra exam. I can't guarantee you'll have similar results, but I can attest to the effectiveness of studying only the correct answers with each question.
NCVEC Question Pool: http://www.arrl.org/files/file/VEs/2018-2022%20Tech%20Class%20Pool%20Final%20with%20errata.pdf
If you are interested in getting a copy of the Question Pool with only the correct answers, MFJ offers it at a nominal cost, and you may be able to find it on the internet. MFJ offers some form of "No-fail Guarantee" – I can't speak to the guarantee.
Question Pool (edited): http://www.mfjenterprises.com/Product.php?productid=MFJ-3211
Find an Exam Session – The Amateur Radio Operator License exam is offered by volunteers, not the Federal Government. The best resource for finding an exam session would be through your local club (see above), but if that's not an option the American Radio Relay League has a webpage that will let you search for an exam session in your area:
Exam Session Search Page: http://www.arrl.org/find-an-amateur-radio-license-exam-session
Preparing to take the license exam – Once you find an exam session in your area and you feel ready to take the exam, you'll need to bring money to pay the exam sitting fee (typically around $14-15). In addition to the license fee you'll need to bring a state- issued ID and your FRN from the FCC. For instructions on how to register your SSN with the FCC and receive a FRN, visit the FCC's Registration page and the FCC's Registration instructions page. There are numerous options to establish your identity if these are difficult or you prefer not to, as outlined on the ARRL web page "What To Bring To An Exam Session":
What to Bring: http://www.arrl.org/what-to-bring-to-an-exam-session
Good Luck,
Ken Hansen, N2VIP
President, Irving Amateur Radio Club, Inc.